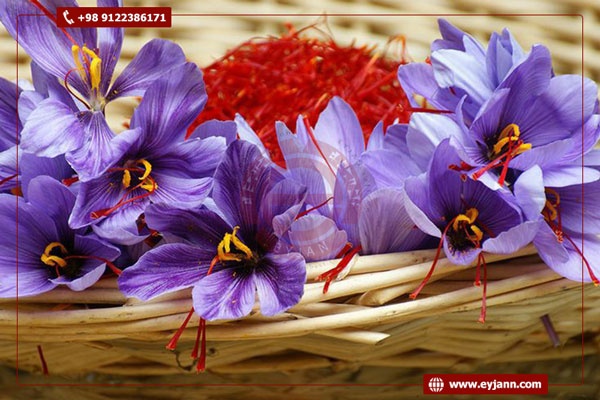 Saffron is the most valuable spice in the world that is called the "Red Gold".
It's cultivated in Iran, Egypt, Spain, Italy, Turkey, Switzerland, Pakistan, and the Maghreb. More than 90% of the world's saffron production is allocated to Iran. Every year, more than 75% of this saffron produced in Iran is exported as wholesale saffron to countries such as the UAE, India, and Europe.
Eyjan saffron company is one of the main saffron manufacturers and exporters in Iran.
With 20 years of experience in saffron producing from cultivating saffron in the best agricultural lands throughout Iran to processing to packing in compliance with all standard principles, Eyjan provides the highest quality Iranian saffron and has many ISOs and certifications.
Through Eyjan company, you can order any kind of Iranian saffron from anywhere in the world in any required quantity and receive the purest saffron from a first-hand producer at the production price.
Table of contents
Saffron production at Eyjan company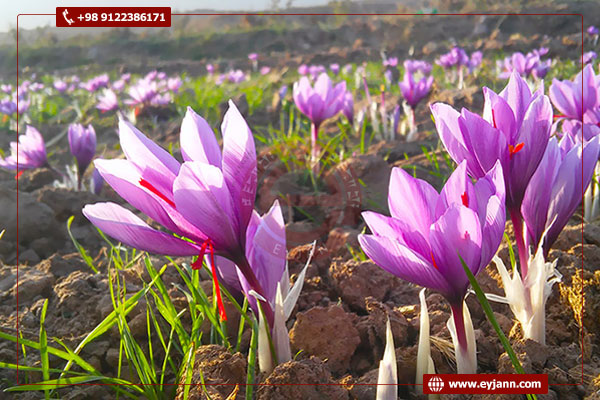 Saffron, whose scientific name is Crocus sativus, has been used for thousands of years due to its extraordinary properties and flavoring and aromatizing foods.
Production of quality saffron requires cold and dry weather conditions, fertile soils rich in minerals and the possibility of adequate irrigation.
Saffron is grown in ideal subtropical climates with mild winters and hot, dry summers.
In most regions of Iran, agricultural lands have the best conditions for growing saffron. The soil of these agricultural lands and their height, as well as the climate, are suitable for saffron cultivation.
The perennial saffron plant has onion. This onion has a brown pod that grows in southwestern Asia, southern Spain and southern Europe. Iranian saffron onion is the best in the world.
The best time to plant saffron is late spring, and the warmer the weather and the longer the planting time, the saffron bulbs will be damaged. Irrigation is needed for saffron at the beginning of cultivation and after this only during harvest and a few days before harvest, the need for water is seen in saffron cultivation fields. Saffron plant needs less irrigation and care than other plants. Saffron onion does not need to be replanted for 7 years after it is planted.
After the saffron onion is planted, the plant begins to grow and forms a stem at the end of which a bud is formed. After flowering, you will encounter a purple flower with 6 beautiful petals that protect the 3 red stigmas.
This plant usually grows in autumn and is found in sizes of 25 to 30 mm.
Saffron is harvested in early autumn. Of course, the harvest may continue until mid-autumn.
Eyjan saffron company's farmers carefully select Saffron flowers. Because sunlight can damage the quality of saffron, saffron is harvested in the early morning and before sunrise.
After this stage, the flowers are transferred to be cleaned and separated from their stigmas. The usable part of the saffron plant is its orange flower stigmas.
This valuable nutrient is obtained with great effort and in small quantities from the saffron plant. In fact, from every 100,000 to 200,000 saffron plants, about 5 kg of saffron flowers are obtained, and the weight of 5 kg of fresh saffron reaches one kg after drying.
Eyjan Company performs all the processes of planting, harvesting, and drying saffron independently and with the help of skilled experts and advanced machines, observing the hygienic principles under the standards.
What are the saffron compounds?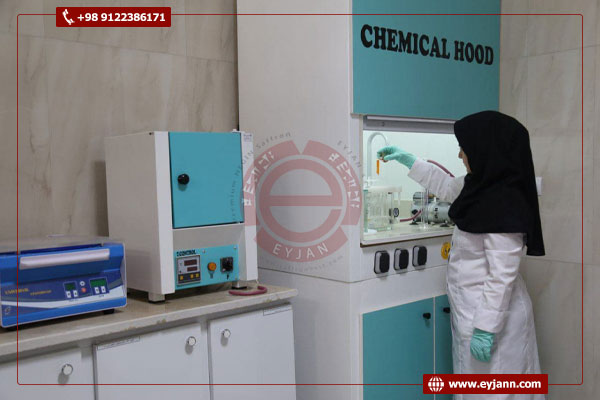 The unique aroma, taste and color of saffron along with its medicinal properties make it a valuable element in many foods around the world.
Saffron has a distinctive aroma that is obtained from its chemical compounds such as Picrocrocin and Safranal. It also contains natural Carotenoid chemical compounds and Crocin.
Saffron is measured through these compounds in laboratories.
The higher the percentage of these compounds, the higher the quality of saffron and therefore it would have a greater impact human's health.
Measuring Eyjan company's Saffron compounds in laboratories proved that Eyjan Saffron has a quality above the standards.
These compounds include:
Crocin is a coloring strength agent
Picrosin is a flavoring agent
Safranal is a fragrance agent
What are the different types of saffron?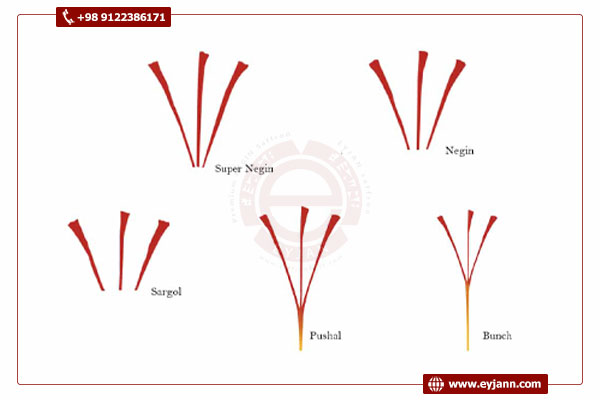 Saffron has different types depending on the type of harvest, separation of saffron flower stigma, the climate of the region, and its quality. Iranian saffron is classified into the following types according to what part of the saffron string it consists of.
Super Negin Saffron: Super Negin Saffron has the highest percentage of Safranal and Crocin. It has a very high coloring power and aroma compared to other types of saffron.
 Negin saffron: In Negin saffron, there is no curvature in the saffron stigmas and the branches are separate and completely red. The coloring power of this type of saffron is much more than other types of saffron, but it is less than that of Super Negin saffron.
 Sargol saffron: Sargol saffron is also composed of red stigmas and no yellow or white part of saffron (saffron root) can be seen in it. Sargol saffron, which has a high coloring and flavor, is the most widely used type of saffron.
 Pushal saffron: Pushal saffron is a kind of saffron that has curled red stigmas, along with some cream (root).
 Daste/Bunch Saffron: To produce  this type of saffron, saffron strings are completely put together (stigma and cream (root)) and dried.
 Saffron root: This type of saffron is composed of saffron roots. The white part of saffron at the end of the saffron stigma is called saffron root.
Buying Iranian saffron from large saffron producers such as Eyjan Company enables you to buy different types of saffron with the highest quality and high quantities throughout the year without any limitation.
History of saffron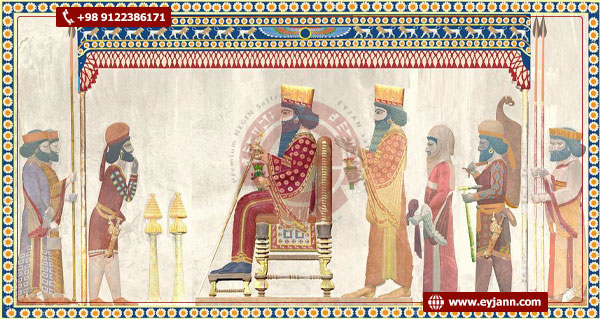 Iran was the first producer and exporter of saffron in the world, but in recent years other countries have also started saffron trade. Today, Spain is known as the largest exporter of saffron by producing saffron as well as importing bulk Iranian saffron and exporting it to other countries. The UAE has also become one of the world's largest exporters of saffron without cultivating any saffron. In addition, many countries such as Afghanistan, India, etc. export saffron.
Iran is the main producer of saffron in the world and the best way to buy pure and quality Iranian saffron is to buy from the first-hand producers in Iran.
Most of the saffron suppliers are not the producers themselves. They procure saffron from producers in Iran or other intermediaries and sell it at a higher price and unknown quality.
By buying Iranian saffron from reputable saffron producers in Iran, you can ensure the quality of the saffron you prepare.
Eyjan is a leading saffron producer from Iran that produce and export Premium Iranian saffron to the world.
How to distinguish the original saffron?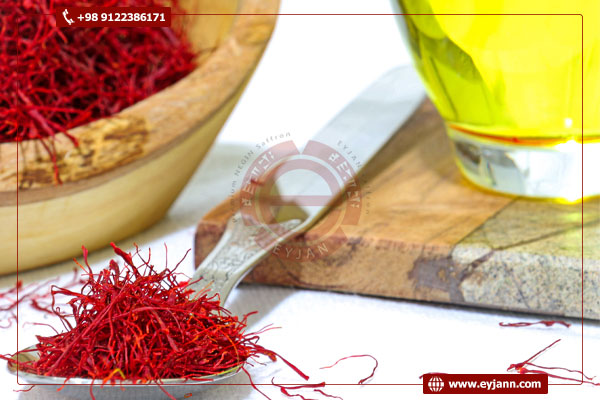 One of the most difficult things for saffron buyers is to distinguish original saffron from fake or inferior saffron because brokers and profiteers are very professional in the field of fraud.
There are several ways to identify authenticity, some of the most reliable of which are listed below.
Recognizing the appearance of saffron, especially its stigma
Taste of saffron (it tastes almost bitter)
Recognize its unique smell
Brewing saffron
Touching it by hand or placing saffron strings between the paper
Using gasoline and gas flame
What are saffron uses?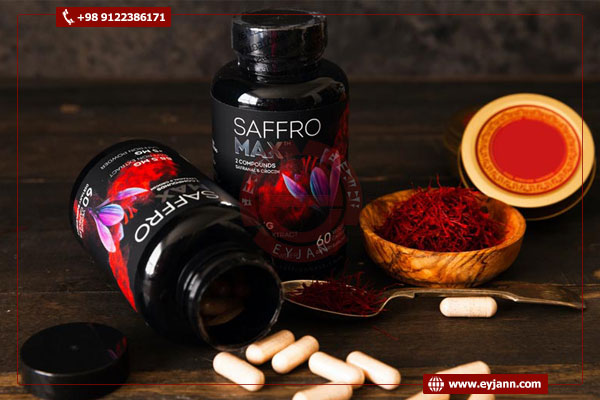 Dried red stigmas are parts of saffron plant, which are mainly used as a flavor, coloring, and seasoning in cooking. Saffron gives food a special aroma and color, and therefore saffron is used in food industries such as confectionery, preparation of cake powders, and as a natural flavoring of beverages and in the dairy industry, etc.
It is also used in pharmacy to make drugs such as antidepressants.
In the textile industry, saffron is used as a dye for fabrics. Natural dyes have been used in the dyeing industry for many years. Today, natural dyes are very popular all over the world due to their consumer safety and lack of negative effects on body health.
Due to its special composition, saffron is used in health industries as well as in the production of aromatic and deodorant substances. In the perfume industry, saffron is used as an essential oil as a cosmetic.
Saffron Nutritional value
A tablespoon of saffron has the following nutritional value:
Carbohydrates 1.37 grams
Fat 0.12 g
Protein 0.24 g
Vitamin C: 1.7 mg
Vitamin B9: 0.002 micrograms
Vitamin B6: 0.02 mg
Vitamin B3: 0.03 mg
Vitamin B2: 0.01 mg
Iron: 0.23 mg
Magnesium: 6 mg
Manganese: 0.6 mg
Copper: 0.01 mg
Phosphorus: 5 mg
Potassium: 36 mg
Kaempferol: 4.3 mg
How much saffron to use per day?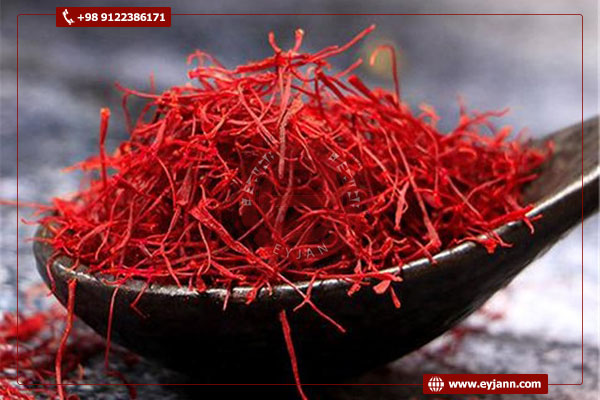 Saffron should not be consumed more than twice a day and more than 30 to 50 mg per meal. The maximum consumption of saffron in a day is 1500 mg, which is less in pregnant women or those who are allergic to this spice for various reasons.
Doses above 5000 mg are toxic and even deadly. Pregnant women taking more than 5,000 mg may experience an abortion.
What are the saffron benefits?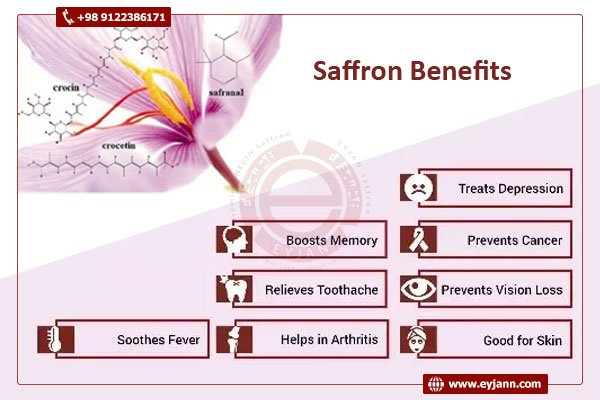 Treating depression
One of the most important factors in the treatment of depression are certain hormones that are responsible for neurological control. These hormones are called Dopamine and Serotonin. In a comprehensive study, scientists concluded that saffron can positively control these two hormones and help the depressed person recover faster.
The property of increasing intelligence and memory power
Although it has been said that the intelligence of every human being is largely related to the hereditary aspects and his experimental efforts, but the beautiful saffron plant has changed this rule a little. It is said that the special minerals listed below affect the intelligence of people. As we have mentioned in the nutritional value section of saffron, these substances are found in saffron. These substances also help to increase the power of memory.
• Manganese
• Copper
• Iron
• Selenium
• Zinc
• Magnesium
Of course, it should be noted that excessive consumption of these substances does not increase intelligence too much, but causes poisoning.
Adjust the body clock and improve the sleep cycle
Sleep is not an activity for us, but it can greatly affect our health. When the sleep clock is disturbed, it means that the body clock is disturbed and the disturbance of this clock causes dysfunction of body parts.
Although the cause of sleep disturbance can have different causes. saffron can help you experience a better and deeper sleep by influencing factors such as peace of mind, adjusting the body clock, refreshing the body.
Treatment of hair loss
It is well known in medicine and botany that any plant that is in the shape of an organ of the body is useful for that part of the body.
For example, if you cut a carrot across, you will find that it is similar to the eye and according to research, it contains vitamin A and substances that help strengthen the eye. This has been proven for various fruits.
If you pay attention to saffron shape, you will notice that it is similar to hair. And it has been proven that the consumption of saffron helps increase hair growth and strength.
Treatment of respiratory disorders and chronic cough
One of the uses of saffron, which has been true for many people, is to use this delicious plant to treat disorders and inflammations of the lungs and respiratory system.
How saffron treats this is not the subject of our discussion, but you can help improve your lungs and lung bronchitis by preparing a drink containing tea and black seed, cumin, cardamom, chamomile, fennel, and licorice.
Using saffron for beauty
Using saffron for beauty has many branches! For example, it has been said that a pregnant mother will give birth to a beautiful baby if she eats enough saffron in certain months when the risk of miscarriage is lower!
Also, saffron indirectly affects the freshness of the skin by improving some diseases and disorders.
But consuming saffron tea helps to refresh and rejuvenate the skin.
Finally, it is good to know that skin lesions such as blemishes, fleas, and ticks can be eliminated with proper consumption of saffron in the long run!
Improve muscle pain
Saffron has a large number of minerals that together help to better absorb calcium. The absorption of calcium by saffron helps the body to compensate for its damage and improve.
Reduce heart attacks and strokes
Saffron contains two important substances called Potassium and Crocin. These two, in turn, help to heal the arteries and veins, thus preventing clogged arteries and strokes. Crocin also helps regulate blood cholesterol levels, which greatly reduces the risk of heart attacks and clogged arteries. So use saffron for longer life.
Reduce the progression and incidence of cancer
Regular use of this plant helps to prevent cell mutations and cancer. Also, the growth of many cancerous tumors with saffron is stopped and the treatment process is improved. By controlling the production of free radicals and by strengthening the immune system, cancer is spontaneously controlled and inhibited.
Prevention of Alzheimer's saffron
As mentioned, saffron helps improve memory. In particular, it helps to control or treat certain diseases such as amnesia, Parkinson's, mild Alzheimer's, and moderate Alzheimer's. Therefore, to prevent the decline of intellect and mind in old age, be sure to include saffron in your diet.
Prevent presbyopia and improve vision with saffron
According to research, people who regularly eat saffron have eye protection that prevents the damaging effects of direct sunlight. It also helps to cure eye diseases due to its minerals and vitamin A. In addition, patients with Macular degeneration can regain their vision by consuming saffron.
It has also been effective in treating high blood pressure and blood sugar.
Also, women who suffer from menstrual irregularities or have painful menstruations can recover by consuming saffron in time.
Diabetes can be controlled and prevented by consuming this plant.
Gout can be treated with this flower.
Saffron helps to improve men's sex life.
It is effective in treating digestive problems.
Sleep disorders, urinary disorders, and memory disorders can be eliminated with the help of this colorful and fragrant plant.
There is a simple treatment for MS and that is saffron treatment.
Saffron can be used to treat infertility.
Helps improve metabolism and leads to increased metabolism and weight loss.
Side effects of excessive consumption of saffron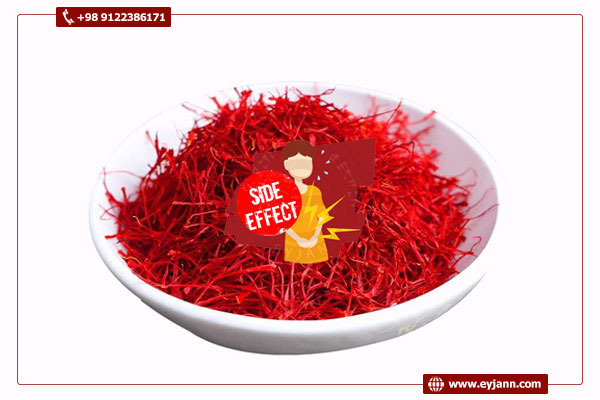 Saffron is a safe and healthy food supplement for your daily diet and despite all the benefits and advantages of consuming golden spice, in very few cases, it may have side effects such as the following:
Dry mouth
Anxiety
Vertigo
Nausea
Decreased appetite
Headache
Some people may be allergic to the carotenoids in this spice.
Note that pregnant women should not consume saffron unless they have consulted their doctor. There is ample evidence that saffron may endanger the health of the fetus and mother.
Excessive consumption during menstruation increases the level of anxiety.
It also reduces blood pressure and causes excessive blood thinning, which may cause complications such as nosebleeds or uterine bleeding in women.
Excessive consumption of saffron for a long time can lead to a decrease in red blood cells in the body.
Overuse can also affect some of the body's endocrine glands, such as the liver.
Excessive consumption of saffron also causes vomiting, decreased heart rate, bleeding from the nose, bleeding from the eyelids and lips, and causes dizziness, lethargy, jaundice, and other dangerous complications that these consequences can even lead to death. Be.
Eating too much saffron is harmful to the kidneys. May cause diarrhea, dehydration, and blood in the urine
It reduces appetite and causes headaches and disturbs the senses.
Consumption of saffron is highly toxic and causes vomiting, uterine bleeding, bloody diarrhea, nosebleeds, eyelids and lips, dizziness, lethargy, jaundice, and severe smooth muscle stimulation, and sometimes even death.
Therefore, consume saffron in the amount of the appropriate daily dose that we mentioned earlier in this article to benefit from its benefits.
How to store Saffron?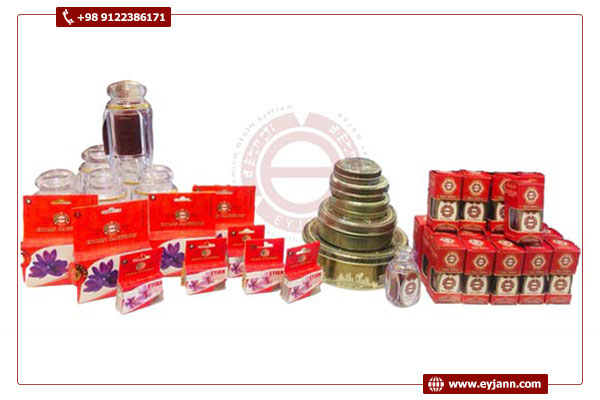 Saffron should be kept away from light and moisture. Keep saffron in closed glass or metal containers. Note that saffron essential oil can evaporate, so close the lid of the saffron container. If the lid of the saffron container is left open, the medicinal effects and its quality will be reduced.
The aroma of saffron is due to the presence of a colorless essential oil with terpene and an oxygenated compound with cinnamon called Safranal. The taste of saffron is related to the bitter hydroxide of Picrocrocin. The red rust of this plant is related to the presence of a substance called Crocin.
Inferior saffron is usually sold in low-quality packaging such as plastic containers.
Eyjan premium saffron is packed in metal, or polycrystal containers, that are available in various sizes and models.
Our standard saffron packaging is designed to protect saffron from spoilage, while it is also possible to observe the quality of saffron.
Inside our metal saffron containers are not completely covered and all the saffron inside the container is visible. You can see the tall and all red strands of saffron. We don't hide broken or low-quality saffron in full metal boxes.
How much does saffron cost?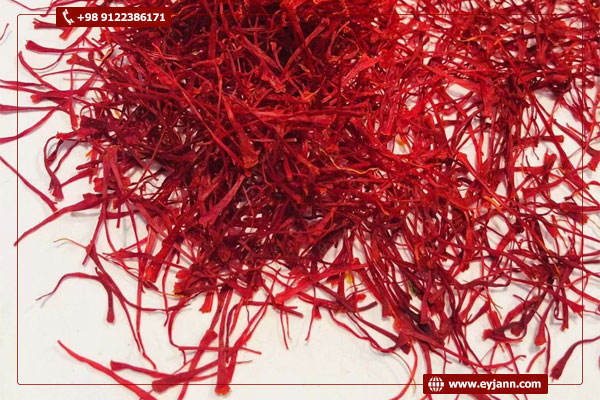 Various factors affect the saffron price.
Some of these factors are the type of saffron, The region in which it is grown, the quality of saffron, the amount of saffron purchased, and… But the most important factor is the saffron type and quality.
Premium saffron is not sold cheaply. Therefore, if a saffron dealer claims to sell high-quality saffron at a cheap price, you should doubt the quality of the saffron they offer.
But you can buy saffron at a more reasonable price by eliminating intermediaries and buying wholesale saffron from major and first-hand saffron producers.
Eyjan Company offers high-quality saffron at a more reasonable price because it carries out all the stages of saffron production (cultivation, processing, packaging) and also because of the production of a large volume of saffron.