Eyjan company is one of the largest wholesale saffron companies in Iran.
There are many saffron suppliers in the world but there are a few Iranian saffron producers.
Eyjan has independently performed all stages of saffron production from cultivation to packaging and sale.
It produces Persian saffron in the best agricultural lands all over Iran and exports Iranian wholesale saffron to clients all over the world in retail and bulk packages.
Eyjan Company aims to eliminate intermediaries and offering customers quality and organic saffron at a reasonable price.
After 30 years of saffron production and export, Eyjan company produces the highest quality saffron by having skilled experts and advanced technology and has received many certifications, which you can see below.
Because we are saffron producers we are able to supply all kinds of saffron in unlimited quantities and of the highest quality to customers all year round.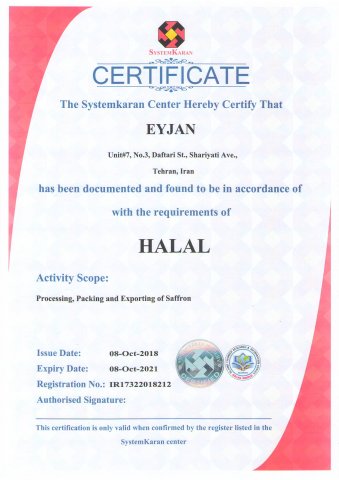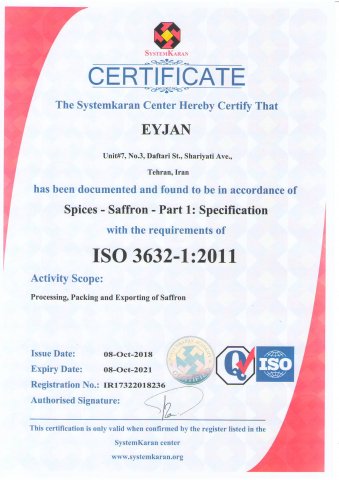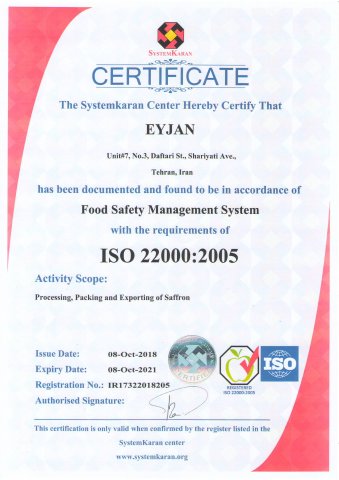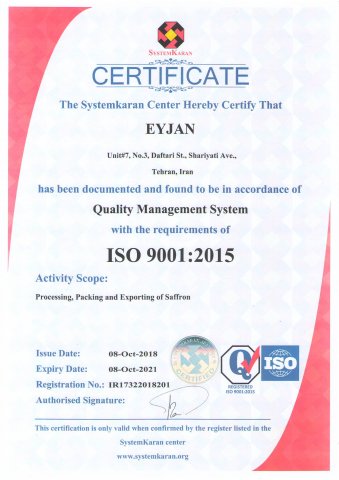 Eyjan company record
Eyjan company started its work in 1990 as a saffron wholesaler in Iran, we worked for 2 years observing farms, advising farmers, and buying saffron flowers to pick the saffron stigma for processing and drying.
We had many difficulties dealing with farmers and we couldn't make sure of the quality assurance, consequently, Eyjan company decided to cultivate its own saffron flowers.
Eyjan started to produce saffron
Since the saffron flower nature is very sensitive and the first 3 years of the cultivation is not economically efficient, then besides the cultivation we had to buy saffron flower from good farmlands in which the farmers are willing to cooperate for better and efficient production.
We do all the stages of saffron production independently
We continued our efforts and our concentration was on the production of very high standard saffron.
Thus, our yearly production was grown and we realize we are in need of a bigger place for processing and saffron stock.
The location was very important because the saffron flower should process very fast before it gets perish, most of our farmers and rental farmlands were near Faruj village in North Khorasan.
We bought land and started to build a salon to be a place for processing saffron and a warehouse for our products.
After that, we were looking for having the advantage of better technology to produce higher quality products and better timing.
At that time there was actually no technology and machinery and we had to stick to labor which was very hard to convince them for the awareness of sanitary issues.
We've mastered our business, to provide efficient services
Now after those hard years we have our good arrangements the place is sanitized, the staff who are working with us are under sanitary observation and no extra person is allowed to enter the saffron processing and stock place.
Eyjan company is now one of the most reliable Persian Saffron suppliers from IRAN which look for long-term business relations in the worldwide market.
We have near 25 fixed employees but each year at the time of harvesting we may increase our staff to 200 people in order to To do the drying and processing of saffron quickly.
Stressing that IRAN has the best quality Saffron in the world. We are committed to supplying Persian Saffron in your ordered quality and quantity.
We are cooperative to the order of the client's request, with globally competitive quality and with the aim of creating common added value for all stakeholders.
We have mastered our business, to serve our clients fast and efficiently.
Eyjan is trying to make a healthy world
Our team mainly deals with organic and pure products.
Eyjan wants to be a leader in supply saffron, medicinal herbs, and food products in bulk and packing.
Our mission is to produce and supply the products of medicinal herbs and foodstuffs with superior quality in bulk and packing with client brands or EYJAN brand in varied and attractive shapes.
We respect the principle of honesty and value sharing for our co-workers as our principle.
We are trying to promote the health of the community and using expert human resources to be different in the domestic and foreign markets.
Because we are not just saffron producers, we are trying to making a healthy world.