Eyjan saffron team is proud to be one of the limited numbers of Iranian wholesale saffron companies that carry out its saffron production process independently from cultivation to processing and packaging.
And it consists of personnel who are aware of the agricultural situation and offer you first-class and original saffron without intermediaries and minimal profit.
Therefore, Eyjan saffron company can supply all kinds of Iranian saffron which are Negin, Sargol, Pushal, and Dasteh, in the quality above the standard level in bulk and different retail boxes, and unlimited quantities.
Through the ongoing monitoring of Eyjan saffron farmland, we always strive to provide pure and organic Iranian saffron free from contamination and impurities when purchasing saffron from farmers.
Also, all the hygiene tips and standards are compiled in Eyjan company and we have multiple ISOs.
In the picture below, you will get acquainted with Eyjan Company saffron terms of sale.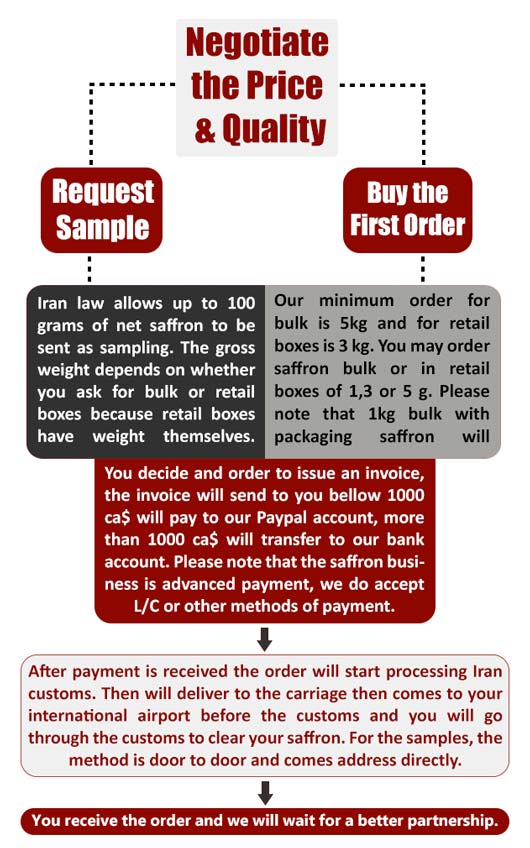 Eyjan company with its pure, natural, and high-quality saffron, is willing to cooperate with saffron distributors and saffron wholesalers from all around the world.
We offer three options for selling Persian saffron: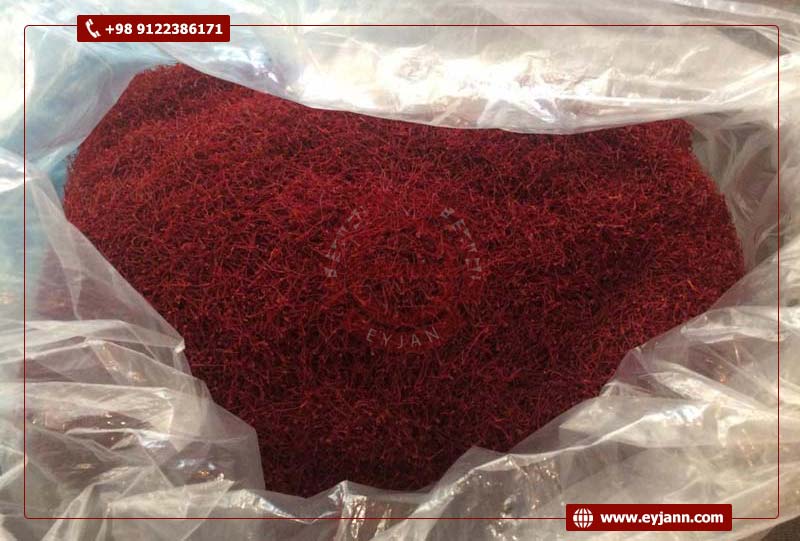 1. Buying bulk saffron
If you buy bulk saffron your order will send you in metal boxes (a metal box holds 400 grams to 700 grams of saffron depends on the type of saffron you ordered) or plastic bags.
Our new and up-to-date bulk saffron boxes are as charming as retail boxes.
Generally wholesale saffron is cheaper than retail saffron. We use metal boxes and plastic bags for packing bulk saffron as per the customer's order.
2. Buying saffron in retail boxes
By this option, your order will send you in a special box with a very special outer cover. These boxes have 3 different sizes that you can choose between. 1-gram common boxes and 3-gram or 5-gram boxes that can be ordered by custom.
You can choose your inner boxes from the special boxes.
also, you may order inner and outer boxes with your own private label or our private label if you order 3000 or more of each box.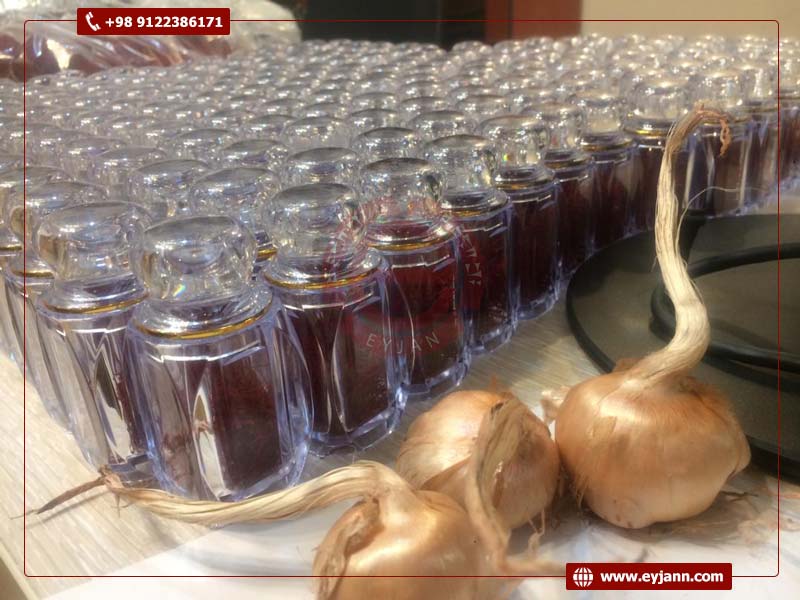 3. sample saffron request
Eyjan saffron company has made this option for its customers to confirm the high quality of its products, the fast response and the responsibility of this company.
We are sure about the quality of our first-class saffron and, our company's after-sales support services because we have also always tried our best to provide the best service to our customers for delivery and other export matters.
After sending the samples, we are waiting for you to receive your order to ensure your satisfaction.
After you've confirmed the high quality of our company's saffron we are willing to start our partnership with you.
We've set limits on the weight of the sample sent, which depends on whether you order your sample in bulk or retail.
But before you know the conditions of our company, you should get some information about the rules of airfreight.
The gross Weight of Air Freight shipments is calculated as the chargeable weight of the shipment.
Typically, large items with a light overall weight take up more space on an aircraft than a small, heavy item. That's why the airlines charge according to the "Capacity Weight".
For calculating the Capacity Weight using centimeters, multiply the length by the width by the height (L x W x H) in centimeters to obtain the cubic centimeters, then divide the result by 6000.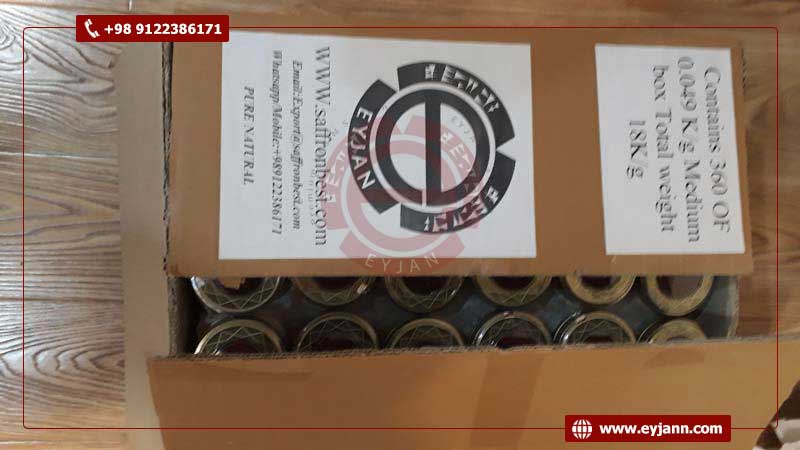 The cost of carriage and Iran customs formalities
International courier companies such as DHL and FedEx, have a fixed price for loads with a gross weight of 1 gram to 200 grams, which is about 150-200 ca$ for door-to-door service that delivers the saffron sample to your address.
The problem is that according to Iranian law, sending more than 100 grams of saffron is illegal.
But we have the possibility to send you up to 200 grams of bulk saffron as sampling.
An exception based on the type of saffron you order:
Saffron different types have different volumes. So in some cases, we can declare to you that it's possible for you to order up to 300 grams of a special type of saffron and receive it in 100-gram boxes by paying the same post cost as 100 grams saffron.
for Pushal saffron, Negin saffron, and Super Negin saffron maximum of Up to 200 grams can be sent, but Sargol saffron and powder can be sent up to 300 grams.
For example, we can send you up to 300 grams of powdered saffron with the same cost of the carrier and Iran customs formalities as 100 grams of saffron.
Totaly the gross weight depends on whether you ask for bulk or retail boxes. Because retail boxes have weight themselves.
For instance, if you order 200 grams of bulk saffron, its gross weight would be less than the limitation of 500 grams of international post courier that costs about 150-200 ca$.
But if you order this 200 grams of net saffron in retail (in 1-gram boxes), its gross weight exceeds the 500 grams limitation of international post courier, and its cost of shipping wouldn't be affordable.
Generally, it's not affordable if the gross weight of your retail order is less than 5kg.
Buy the First Order
Our minimum order quantity (MOQ) of Eyjan company is 3kg net saffron for saffron in retail boxes and 5kg net bulk saffron.
Please note that 1kg net bulk saffron with its packing will weigh up to 3kg gross weight and 1kg saffron in retail boxes means 1000 boxes of saffron that may weigh up to 45kg.
Due to the total cost of your consignment, the transport cost is not suitable for less than a 5-kilogram saffron order.
So it's more economical to order at least 5kg of saffron on the first purchase.
Saffron professional businesses usually buy 5kg of saffron in the first order to test the quality and credibility of the saffron dealer's product, then if the outcome was suitable, the business would continue.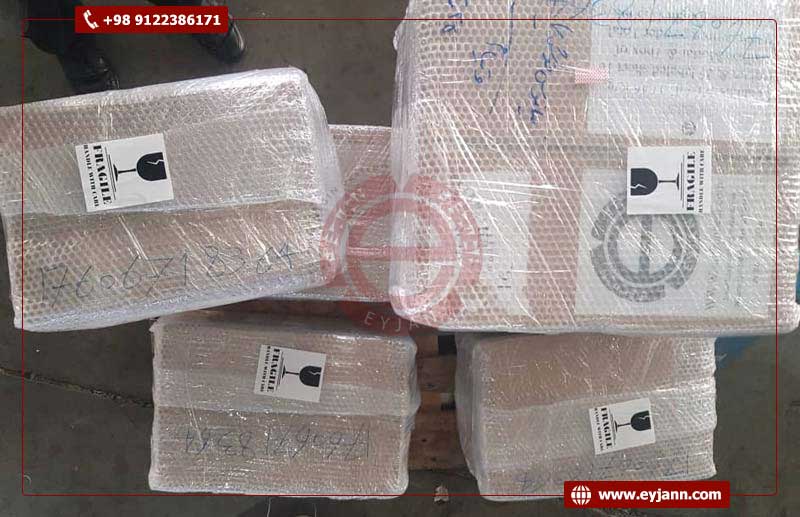 Eyjan company incoterm (international delivery terms)
No matter which of the following options you choose, In any case, the buyer is responsible for shipping costs.
These conditions are intended for special cases, where the laws of the destination country do not charge tax on the shipping cost, so the buyer prefers to pay the shipping cost separately.
· FCA (Free Carrier)
Under the shipping terms for the FCA Incoterms, the seller is responsible for export clearance and delivery of goods to the carrier at the named place of delivery.
This term represents the seller's minimum obligation since he only has to place the goods at the disposal of the buyer. The buyer must carry out all tasks of export & import clearance. Carriage & insurance is to be arranged by the buyer.
· CFR (Cost of Freight)
This term means the seller delivers when the goods pass the ship's rail in the port of shipment. The seller must pay the costs & freight necessary to bring the goods to the named port of destination, BUT the risk of loss or damage, as well as any additional costs due to events occurring after the time of delivery, are transferred from seller to buyer. The seller must clear goods for export.
Payment terms and condition:
You decide and order to issue an invoice. The invoice will send to you.
Bellow 1000 CA$ will pay to our PayPal account and more than 1000 CA$ will transfer to our bank account.
Please note that the saffron business is the advance payment or Telegraphic Transfer in advance. we also do accept L/C or other methods of payments.
Because many scammers around the world cheat this way. These scammers show you the photo of high-quality saffron and offer a very low price for it.
Professional buyers recognize that high-quality saffron has a fixed certain price.
Iran with 98% of world saffron production has an official saffron market to indicate the precise saffron market price each day.
Saffron market price relies on supply and demand and also the classification and category of the saffron quality and saffron shape.
After payment is received the order will start processing in Iran customs. Then it will be delivered to the courier to be sent to your international airport. And you clear your saffron from customs.
For the samples, the method is door to door and delivers directly to your address.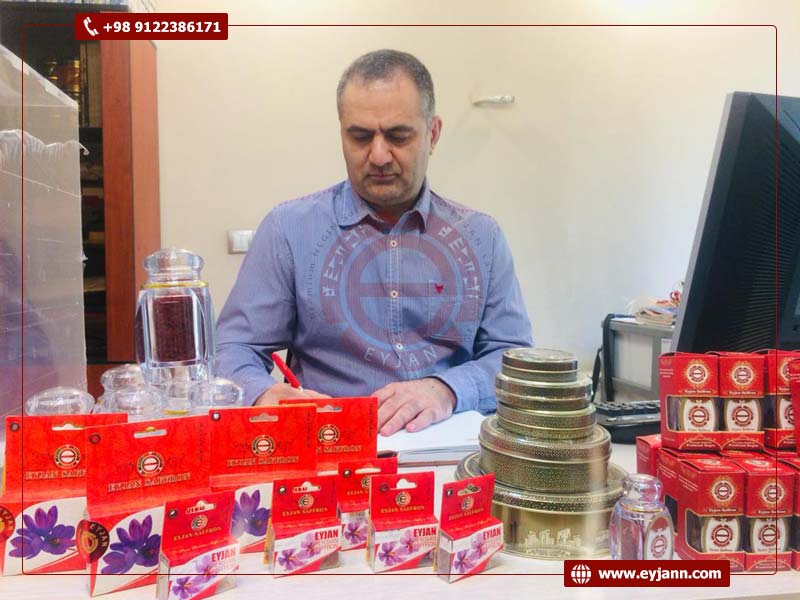 Our effort is to provide you pure and natural saffron to empowers you to be known as a reputable seller in your country and guarantee your clients and consumers the health and effectiveness of the saffron that you provide.
Eyjan company with its more than 20 years of brilliant history, which originated from honesty and faithfulness as well as focusing on export premium saffron has no competitors in the freshness of its (dried) saffron and due to the highest demand comparing other brands and producers, we believe that we are the best Iranian Saffron wholesaler.
For saffron price information and free consultation to buy wholesale saffron online, contact us.
Mobile/Whats App/We chat(+989122386171)